Use the Messenger platform to connect to your customers and free up your time
Communicating quickly with your customers and also freeing up your time sounds like a paradox, doesn't it?
You know you need to talk to them and give them answers fast (as we know they will think subconsciously that you have ignored them, even though its 9 pm on a Sunday).
You also don't want to be attached to your computer/phone at the family dinner answering customer enquiries. Or do you? #jokes
The Messenger platform can so all of this for you! You need first to be aware that you can…then set it up to do this on behalf. (Or pay someone like me to).
Hang on…I'm jumping ahead of myself. What the heck is Messenger?
For those of you who don't know…here you go:
It was initially just 'chat' on Facebook. But now it's a separate platform that you don't even have to have a Facebook account anymore. My 73-year-old mum even has Messenger and no Facebook on her smartphone. We use it to communicate daily – me usually sending her photos of what I am up to and generally trying to convince her to visit me from the UK.
What does it mean in the public arena?
For a while there, email marketing was losing it's shine because let's be honest – to open your email…you have to open the phone, find the app, click the app, click the inbox then sift through a gazillion emails. That's all a bit too much effort (this is a sarcastic statement as I think it's okay…but human's want to be lazy me thinks!).
I say for a while there as email marketing seems to be back on the 'up' again. But anyway, I digress.
Messenger is one app that can be used on smartphones and computers, and you don't need to log into it to check messages. You just get a notification and click it. Less effort than an email too. Plus you can block the person quickly and also silence the messages if you like.
Businesses on Facebook can use the platform even if you are not actively on there. Consumers like to use it as they feel a bit 'closer' to the business if that makes sense?
The beauty of this platform is that you can set up automated responses to help your customers straight away. For example, they may ask 'What are the prices of your bouquets?' and you can automate the answer to direct them to either a price list or your website.
You can automate this so much; they can also call you directly from the app. I have a few examples below for you.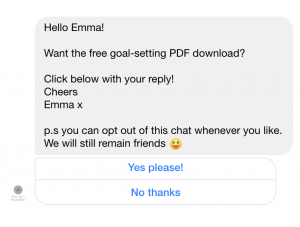 NOTE: Messenger, the time of this book being written (May/June 2019), does currently has whispers of this technology changing again…but isn't that always the way? Things change on these free platforms, and we can do nothing about it – I decided long ago to have the attitude of embracing it.
I personally use a free platform that attaches itself to Messenger called 'ManyChat'. I like this program as it also has the capability to collect the data of the consumer and also allows your blog to be connected to it. E.g. When I put a new blog up on the website, my 'subscribers' even get a copy sent to their Messenger inbox as a 'silent push'. This means they don't get interrupted with a 'ding', but the next time they head to Messenger, they see my message unopened.
It also does some other cool magic, for example:
* I can send a 'blast' out to the subscribers promoting whatever I have going. It must be noted that I don't do this often as you will get blocked if you do it too much
* I can track what people are clicking within the message and work out what people are interested in
* I can set up automated messages to go out after a particular timeframe after they have clicked an option. e.g. they get another message 12 hours after they click the first message.
If you want to see mine, go ahead and click here:
It also has an 'unsubscribe' button, and you can always say STOP to unsubscribe from the system. Which I think is a bonus!
Some people call this a 'bot' and to be honest; I don't care what you call it…it saves me so much time and effort I love it! My clients also love it as they no longer have to sit on their phone, answering the same questions all the time. Plus the customer gets the information they want ASAP.
Of course, you don't have to change anything on your business Messenger if you don't want. But consider that you can use it on your website as an easy way to contact you (rather than calling you). Additionally, you are effectively creating another list to reach people on when you need to.
I am seeing that an emailing list and Messenger list can be utilised very well in connecting and engaging with your people. And isn't that the point I have been talking about since you started reading this book?
You can create trust and give value to your customers via this awesome platform. Why not try it yourself?
Emma????????‍????
Award-winning expert in getting sh*t done, author, coach, mentor & mum